Saturday 7th October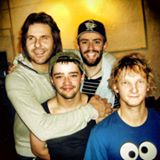 Live music with Davey Jones' Locker. The lively, local Rock / Indie band Davey Jones' Locker will be delivering their refreshingly energetic set to rock loving crowds. Be there to join in the fun.
Friday 13th October

Layla Kellaway (HEC barstaff) is having her hair cut off to be made into wigs for children suffering with hair loss. The Little Princess Trust provides real hair wigs, free of charge, to children across the UK and Ireland that have sadly lost their own hair due to cancer treatment and other illnesses.