Saturday 3rd March 2018: DJ Paul Mico's Motown & Soul Night.
DJ Paul Mico is a familiar local name and he has entertained the people of Southampton for many years as a Wedding DJ and Party DJ alongside his work in bars and clubs in and around the city of Southampton. His Motown & Soul nights are very popular so put on your dancing shoes as a great evening is guaranteed. Doors at 19:00.
Saturday 28th April 2018: Bog Rolling Stones.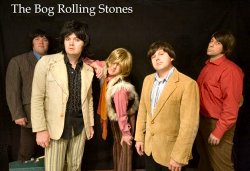 The Bog Rolling Stones have one aim in mind: to inject a little fun and tongue-in-cheek humour into the all too serious world of tribute bands. Realising that it is impossible to take ones self seriously whilst prancing about on stage in a wig and stripy trousers, the bands attitude revolves around high energy, no holds barred entertainment. Doors at 19:00.